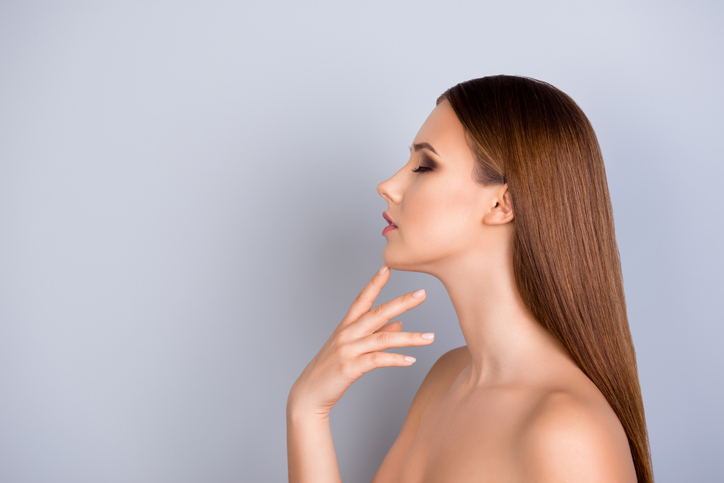 Every aspect of the face can enhance or detract from its overall attractiveness. Your daily mirror check before you head out the door may show nothing amiss in your frontal view, but what about your profile? The shape and size of your nose and chin greatly influence your profile. Any deficiencies in either feature may detract from the overall appearance of your face. Chin augmentation with an implant can help to define the chin so that it brings greater balance to your profile and improves the appearance of your jawline.
When You Should Consider Chin Augmentation

Facial beauty is assessed and measured by multiple factors. Viewing the face from all angles is necessary to gain a full perspective of the attractiveness of one's face. While you may not see any deficiencies from the front, a profile view may reveal a weak chin that detracts from your overall facial harmony. Whether your face has bold, chiseled, masculine features or soft, beautiful, feminine features, chin augmentation could improve your overall facial attractiveness. If you have a weak chin that lacks strong definition, chin augmentation can enhance your profile and create greater jawline definition to bring your facial features into balance.
How Implants Are Used for Chin Augmentation
Chin augmentation enhances the chin using an implant. Chin implants are made of a synthetic material, and each one is uniquely designed to match the patient's facial anatomy and cosmetic desires. For this procedure, Dr. Rousso will make a small incision underneath the chin to create a pocket for the implant in front of the chin bone. He will then insert the custom-made implant into the pocket. The implant adds definition that builds up the chin to create a more desirable facial shape and profile. Within two to four weeks, you should be able to see the improvements in your face shape.
To learn more about chin augmentation and how it could enhance your face, schedule your appointment today with board-certified facial plastic surgeon Dr. Daniel Rousso. Call us at (205) 930-9595 or toll free at (877) 932-0400, or fill out our online consultation form today.