Welcome to our Birmingham Medical Spa
During your consultation, our esthetician will consult with you regarding your skincare concerns and answer your questions, making recommendations as to what treatment(s) may give you the best results for the radiant skin you desire. Our esthetician is extremely knowledgeable about all of our premium physician skincare products and the results you can expect from each. Some of the product lines that we carry are Obagi®, Jan Marini, PCA SKIN®, SkinMedica®, Neova, Neocutis, and Keyano. Our physician-grade skin care products deliver superior results and are tailored to meet each individual's needs so that you can continue to use these products at home. Our esthetician stays abreast of the latest in skincare treatments and technology by attending educational seminars and product line advanced classes throughout the year, allowing her to make appropriate home care product selections for you.
In addition to the above spa services, we offer hair removal with our GentleLase laser and have several treatment packages from which to choose based on your individual needs. If you have broken capillaries, facial veins, or hyperpigmentation (brown spots), we can design a treatment package for improvement with our Sciton® ClearScan and Intense Pulsed Light Laser. If you are showing signs of facial and neck laxity (loose skin), you will want to ask about Ultherapy®. Ultherapy® is designed to help tighten the skin. Read more about Ultherapy® here. Our esthetician is trained in Dermapen® and PiXel8-RF Radiofrequency Microneedling procedures.
Introducing Mrs. Ashley Strickland - Esthetician
Mrs. Ashley Strickland is our Esthetician at the Rousso Aesthetic Medical Spa. She has been a licensed esthetician for 13 years, a cosmetology instructor for 8 years, and a microblading specialist for 3 years. She received her esthetic and cosmetology instructor licenses from Mississippi State Board of Cosmetology. Along with working as a medical aesthetician for 9 years, Ashley spent several of those years working along-side one of the top Dermatologist and Mohs surgeons on the Mississippi Gulf Coast, and has been thoroughly trained in numerous laser procedures, Radio Frequency Microneedling, Microneedling with PRP, as well as surgical and laser post-op care.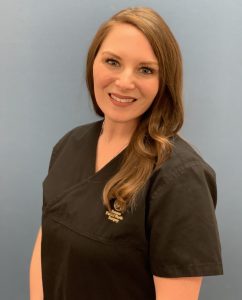 Having been asked for many years what options there were to help treat the loss of hair in the brows, and falling short on a long-term answer for her patients, Ashley decided to continue her education with PhiBrows Academy, a world-renowned training academy specialized in microblading or semi-permanent brow tattooing. This procedure has been life-changing for many patients, but Ashley's alopecia patients hold a special place in her heart. In addition to these procedures, Ashley's repertoire also includes customized facials for relaxation or to help improve acne, Dermaplaning, chemical peels, and makeup artistry, such as camouflage makeup for post-operative surgery patients should they have bruising..
Ashley can custom design the right facial treatment and choose the right products to help you maintain your home care regimen between spa visits to keep your skin looking great and deliver the superior skincare results you desire. Let Ashley help you find that perfect treatment so your skin will feel renewed, refreshed, and rejuvenated!