Marilyn Monroe's Plastic Surgery
Physician's Notes and X-Rays Up for Auction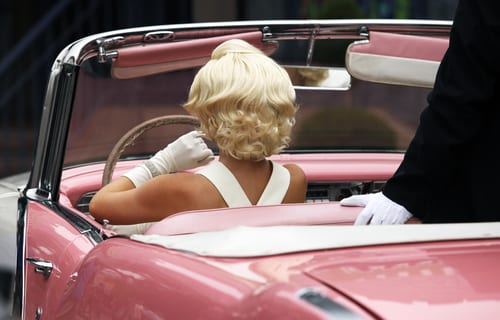 " width="300" height="192" />Marilyn Monroe is viewed as the epitome of glamor and classic beauty, and it has long been speculated that this Hollywood sex symbol underwent plastic surgery. Although many believe that her flawless good looks were naturally endowed, plastic surgeon Norman Leaf recently released medical records for auction that show Marilyn Monroe did have a little help perfecting her appearance.
Dr. Norman Leaf of Beverly Hills is a former medical partner of Monroe's plastic surgeon, Dr. Michael Gurdin. Leaf unknowingly inherited the quintessential Hollywood movie star's records after Gurdin's death and found them 20 years ago after discovering old files packed away in storage. In his 2010 self-published memoir, Leaf referred to Gurdin's notes and alleged that Monroe underwent cosmetic surgery on her chin as well as a minor rhinoplasty procedure to alter the tip of her nose.
The files include details of Monroe's medical history from 1950 through 1962 with physician's notes and a set of six X-rays. In the early documents she went by the pseudonym Miss Joan Newman, and in later notes she is referred to as Marilyn Miller (she was married to Arthur Miller from 1956 through 1961). Monroe's plastic surgeon, Michael Gurdin, wrote the notes that evidently confirm the Golden Era icon underwent a chin implant with bovine cartilage in 1950 (silicone chin implants weren't available at the time). The notes indicate that Monroe visited Gurdin in 1958 complaining of a chin deformity after the implant had dissolved.
The set of X-rays were taken on June 7, 1962 after the captivating actress fell and injured her nose just two months before her death from an overdose of barbiturates. Monroe's frontal facial bones, right and left sides of her nasal bones, and the roof of her mouth can be seen in the X-ray images. The radiologist's notes regarding the X-rays concluded that there was no damage to her nose, but a recent assessment of the images determined that her nose did suffer a very small fracture.
The physician's notes and X-rays of the illustrious leading lady are being auctioned off in November to the highest bidder. Julien's Auctions in Beverly Hills expects that the files will draw between $15,000 and $30,000 at their November 9th through 10th auction. All proceeds from the sale will be donated by Leaf to his nonprofit foundation called Rebuilding America's Warriors, which helps U.S. veterans receive free reconstructive surgery.
If you are considering plastic surgery in the Birmingham, Alabama area, please contact the Rousso Facial Plastic Surgery Clinic. Dr. Daniel E. Rousso is board certified by the American Board of Facial Plastic Surgery and the American Board of Otolaryngology-Head and Neck Surgery, and he has years of experience performing many different facial rejuvenation procedures, including chin augmentation and rhinoplasty. To schedule your consultation with Dr. Rousso, please call (205) 930-9595 or fill out our online contact form. Dr. Rousso has the knowledge and skill necessary to help you achieve the look you desire, and he and his staff are committed to providing the most professional care possible.