Botox is most traditionally known as a neurotoxin used to treat the signs of aging, including dynamic lines and wrinkles. In fact, Botox is so popular as a treatment for these stubborn lines that its name is often used as a stand-in for neurotoxins in general. However, our Birmingham Botox treatment can also be used to address a number of other conditions including the overproduction of sweat (hyperhidrosis), chronic migraines, and neck pain. At Rousso Facial Plastic Surgery, we administer Botox to treat a wide range of cosmetic concerns and health issues.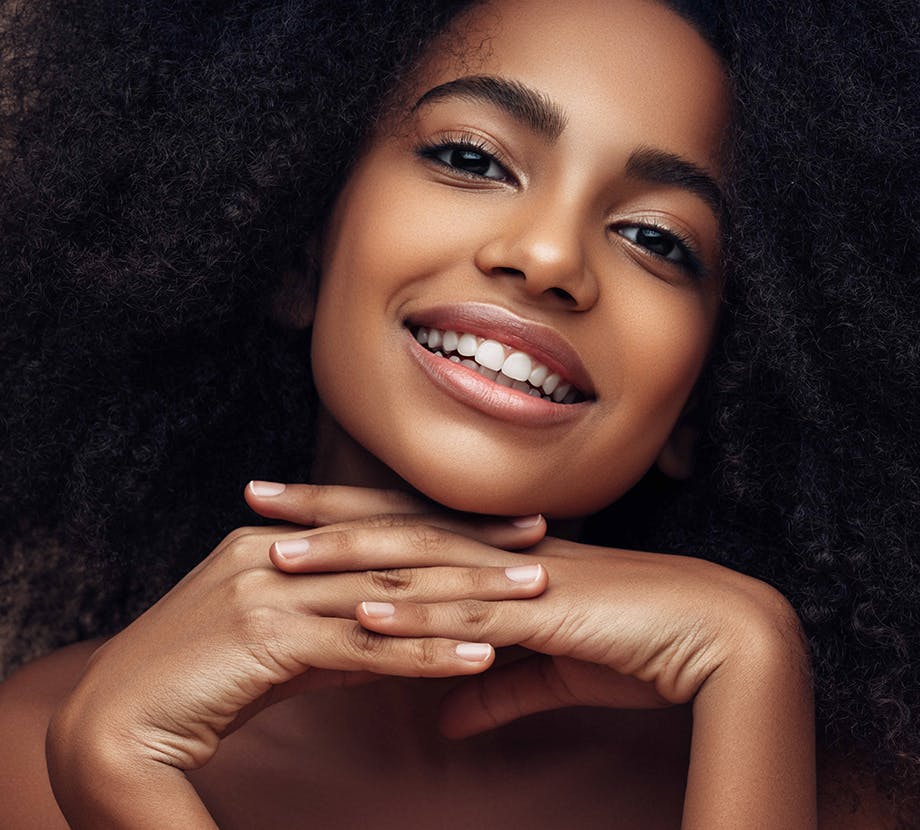 What is Botox?
Botox is an injectable neurotoxin made of botulinum toxin type A, used for both cosmetic and medical purposes. Botox's primary function is to weaken or temporarily paralyze the targeted muscles. As a cosmetic treatment, Botox has to be strategically administered into specific facial muscles, relaxing the muscles responsible for the formation of wrinkles and fine lines.
How does Botox work?
Wrinkles and fine lines usually appear due to muscle contraction, which occurs when your nerves release a chemical called acetylcholine. This chemical enters the muscles' nerve endings to cause contractions, leading to wrinkles and fine lines. Botox is a neurotoxin that targets the nervous system to prevent it from releasing acetylcholine. It effectively disrupts the nerve signals that cause muscle contractions, leading to temporary muscle relaxation and paralysis. Botox is primarily used to reduce the appearance of fine lines and facial wrinkles caused by muscle contractions.
What does Botox treat?
Frown lines or glabellar lines — the wrinkles between the eyebrows
Crow's feet — the wrinkles around the eyes
Horizontal fine lines on the forehead
Fine lines and wrinkles around the mouth
Cobblestone — the wrinkles and fine lines on the chin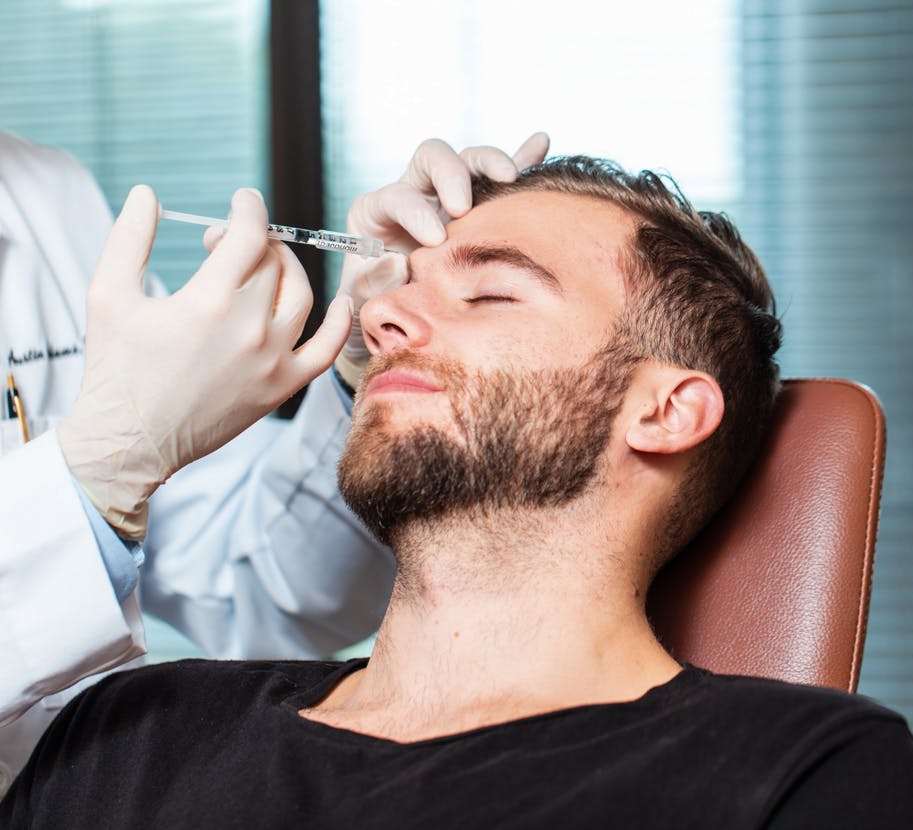 How to prepare for the Botox procedure
During your initial consultation, our professional aestheticians will examine your skin type and discuss your goals to curate the perfect treatment plan. To prepare for the Botox in Birmingham, you should:
Avoid alcohol for 24 hours before treatment, as alcohol is a blood thinner that increases the risk of bruising
Avoid nonsteroidal anti-inflammatory drugs (NSAIDs) for two weeks before the procedure as they increase the risk of bruising
Inform us if you're prone to cold sores
What to do immediately after the Botox procedure
After the Botox injection, we will provide you complete post-procedural guidelines, including the following for the fastest and smoothest recovery period:
Apply a cold compress for 20 minutes every hour
Take any prescribed painkillers as needed for comfort
Avoid strenuous or vigorous activities for the remainder of the day
You can resume most daily activities immediately
Am I a suitable candidate for Botox?
Botox is the ideal cosmetic treatment for you if you:
Want to reduce the appearance of fine lines and wrinkles
Don't want surgery of other invasive procedure
Want a rapid treatment with fast results and little downtime
Are comfortable taking maintenance doses every several months
Botox is likely not the most suitable for you if you:
Want to change your underlying bone structure
Want permanent results
Are under 18 years of age
Are pregnant or nursing
Have allergic reactions to certain components of Botox injections
Have medical conditions that affect your muscles
During your consultation, our cosmetic team will examine your skin type, discuss your expectations and medical history, and determine if you're an ideal candidate for Botox. For cosmetic and safety purposes, we only provide Botox to suitable candidates, though most of our patients fit the required criteria.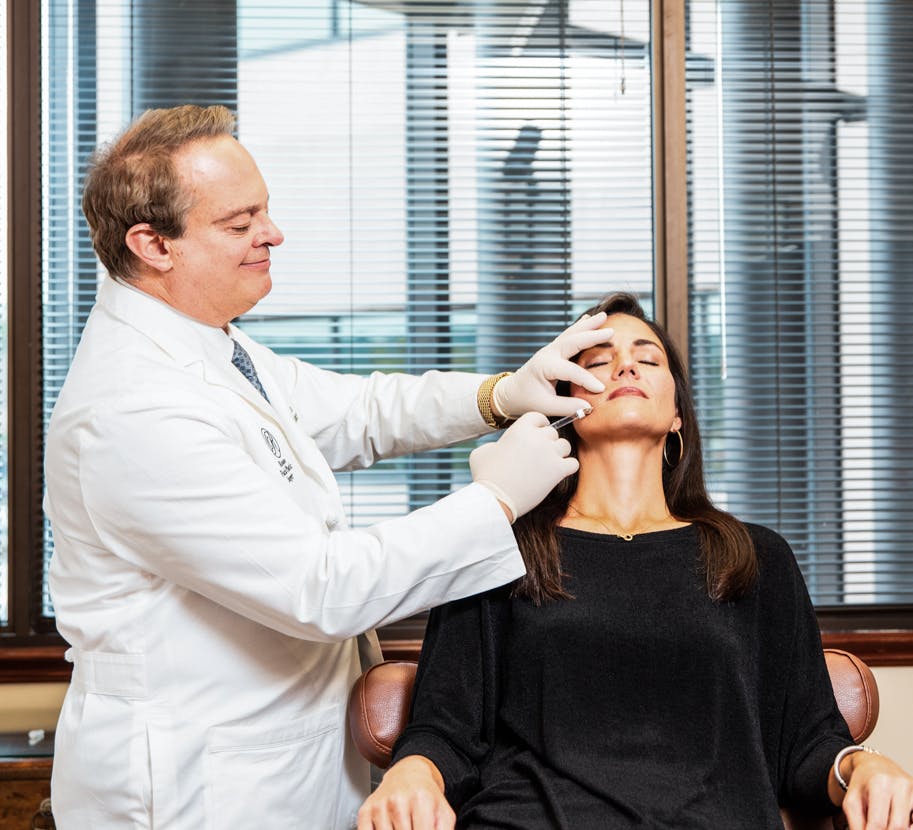 What to expect after BOTOX
You may see some swelling or bruising immediately after the Botox injection. These side effects dissipate quickly, but the exact duration varies for each individual. It takes approximately 3 days before you'' see the results of treatment begin to come in, though some patients don't see the results until a week after treatment. Results typically last up to 6 months.
Why choose Rousso Facial Plastic Surgery Clinic for Botox?
Dr. Rousso and Dr. Adams are two of the most reputable board-certified plastic surgeons specializing in non-surgical cosmetic procedures. During your consultation, they carefully discuss your expectations and determine if you're suitable for Botox. They are supported by a team of skilled injectors who recommend the ideal treatments for your specific needs to ensure the most stunning and natural-looking results. If you wish to learn more, contact us today and schedule a consultation to receive some of the best results after Botox Birmingham, AL has to offer.