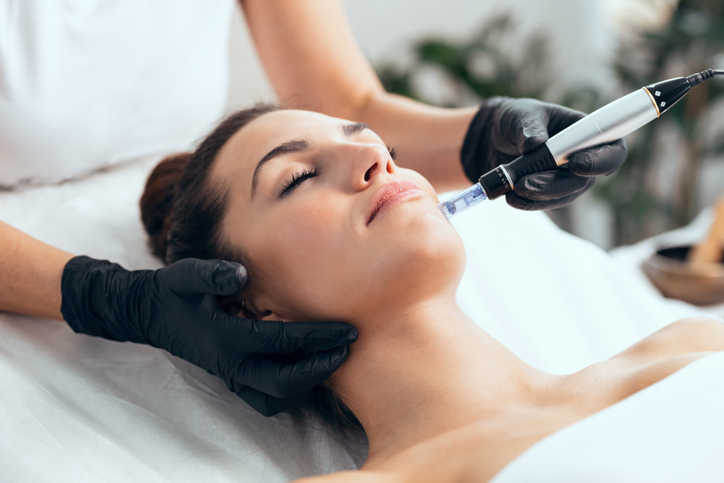 If you have not heard about Dermapen® you may be interested to learn a little bit about this new, revolutionary breakthrough for beautiful skin. So, what is Dermapen you ask? It is a class 1 FDA approved fractional micro-needling device that works to tighten, lift and rejuvenate the skin. It is effective in reducing the fine lines around your eyes and the facial wrinkles you notice when you look in the mirror. Dermapen also works to diminish acne and surgical scars. Dermapen fractional micro-needling uses tiny needles to pierce the skin in a controlled and precise pattern. Dermapen is safe on any type of skin, has a short treatment time and with little discomfort there is virtually no down time.
Dermapen®is an automated microneedling device with a disposable tip cartridge that uses 11 micro-needles to vertically stamp the skin at high speed. This action from the Dermapen's vertical tip creates micro-injuries to the skin. In doing so, this needling encourages and harnesses the body's innate ability to regrow and repair your skin.
Dermapen® is safe and just as effective as a fractional laser or intense pulsed light (IPL) procedure with a significantly shorter recovery period. It will tighten, lift and rejuvenate your skin, and improve wrinkles, fine lines, and reduce acne and other surgical scarring. We recommend a series of 3 to 4 treatments 4-6 weeks apart. At a cost of $330. per treatment, this is a most affordable procedure that will deliver the results you desire; smooth, tighter and rejuvenated facial skin.
To schedule your first treatment with Rousso Med-Spa, just call 205.930.9595.