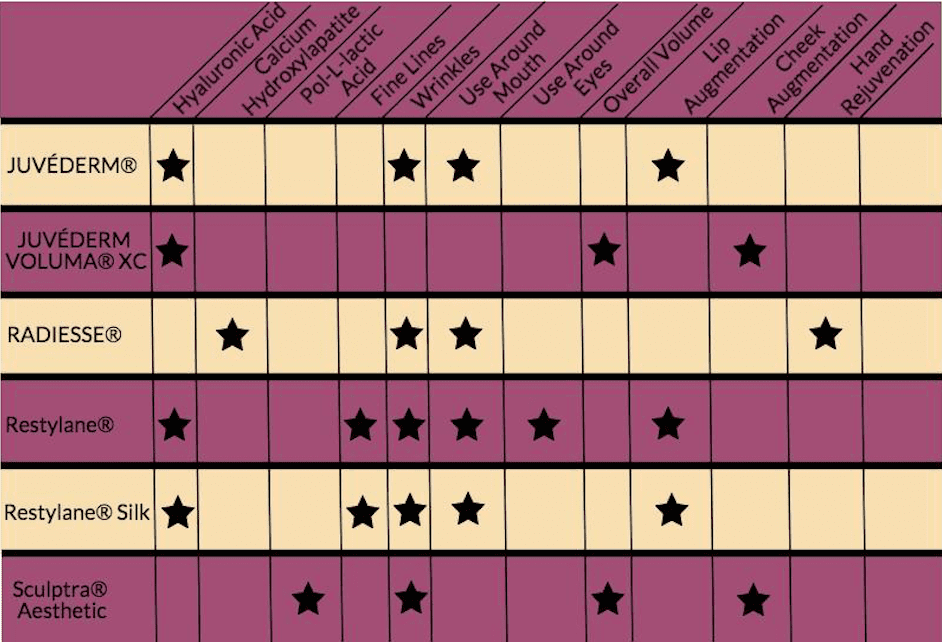 The Differences Between Facial Fillers
Quick, non-surgical facial treatments are becoming increasingly popular as a way to counteract signs of aging. Many people opt for non-invasive treatments because they provide subtle, natural-looking results with little to no downtime. Facial fillers are the leading choice for erasing signs of aging. However, not every filler is created the same, and each is designed to target different facial areas or problems. It is important to discuss your concerns with the doctor prior to selecting a filler.
Facial Filler Comparison Chart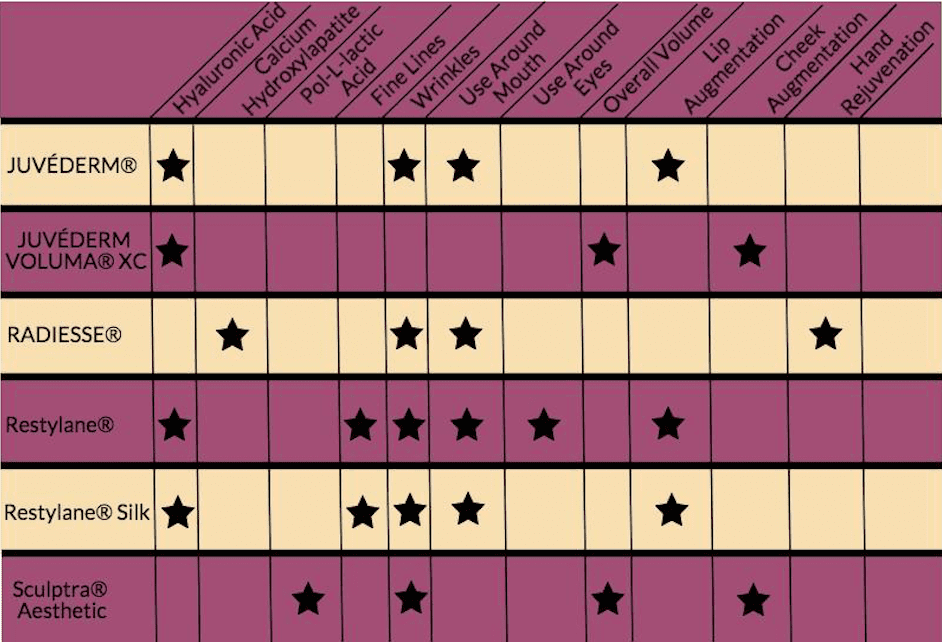 *All facial fillers offered by Dr. Rousso are created from substances that occur naturally in the body, which minimizes the risk of an allergic reaction. However, some fillers have additives to help control pain or increase the ease of application, which may cause an allergic reaction. Patients who suffer from allergic reactions to lidocaine should not undergo Restylane® Silk treatments. It is important for patients to discuss possible allergies to medications and other substances with Dr. Rousso.
Recovery and Results
All facial fillers may result in some mild side effects, including bruising, redness, and swelling at the injection site. These side effects are very temporary and subside after a few hours.
Facial fillers are selected based on the site to be treated and on which will offer the most optimal result. The number of treatments required to achieve a patient's desired cosmetic goal will differ, as will the longevity of the results, based on the selected filler. One can expect that most fillers will need to be repeated at 6 to 12 months.
Sculptra® Aesthetic and JUVÉDERM VOLUMA® are primarily facial and cheek volumizers. JUVÉDERM VOLUMA® provides immediate results after treatment and can last up to two years. After treatment with Sculptra® Aesthetic, you will feel and see improvement, but the optimal results generally take longer to develop because Sculptra® is designed to rebuild your collagen over time. You can expect the results from Sculptra® to last for up to three years.
If you desire the natural, non-surgical results of facial fillers, schedule your consultation with Dr. Rousso today. Contact our office at (205) 930-9595, or fill out our online contact form here for more information.