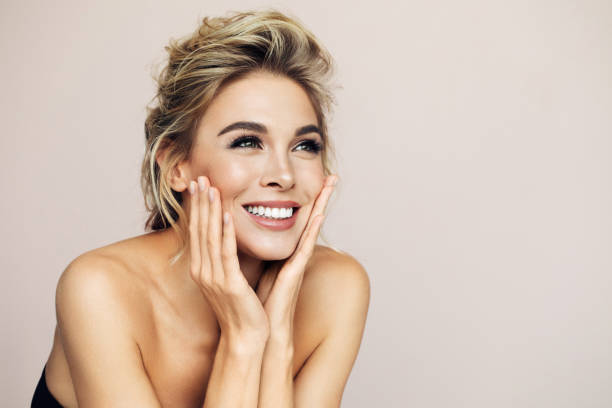 Which facelift is right for me?
Our face is the first thing people see when they meet us. Our face signals our thoughts and tells a story…and it shows our age. As the years pass, signs of aging, such as wrinkles, creases, and sagging, become more and more visible on our faces. Instead of seeing our youthful selves in the mirror, the face looking back appears old, tired, unhappy, or grouchy.
If you want to reduce these signs of age and restore your youthful features, a facelift procedure may be the right option for you. Dr. Rousso and Dr. Adams provide a range of facelift options at Rousso Adams Plastic Surgery, from non-surgical to surgical.
Your facelift at Rousso Adams Plastic Surgery
No two faces are alike, just as no two facelifts should be alike. Different facial changes and aging experiences require different facelift options. There are six facelift options available at Rousso Adams Plastic Surgery, some designed to reverse more significant signs of aging and others designed to address earlier signs of age. We will consult with you to examine your skin, discuss your aging concerns and aesthetic goals, and determine which facelift procedure is best for you.
What causes facial aging?
Facial aging can be caused by a wide range of factors that break down collagen and elastin, two proteins that keep our skin tight, elastic, and supple.
As time goes by, the body naturally stops producing as much collagen and elastin, and factors such as sun exposure, smoking, lifestyle, and others exacerbate collagen breakdown, resulting in a weakening of the underlying structural framework of the face. The result is sagging skin, jowls, creases and wrinkles, hollows in the cheeks or other areas, and a general facial lengthening.
Facelift options at Rousso Adams Plastic Surgery
The following facelift options are available at Rousso Adams Plastic Surgery. During your consultation, we will cover the details of each of these facelift procedures to determine which one is best designed to achieve your aesthetic goals.
SculptLift™
A SculptLift is an advanced facelift procedure that Dr. Rousso developed to smooth away wrinkles and creases and restore lost volume. During a SculptLift custom facelift, Dr. Rousso uses a natural tissue transfer and a customized SMAS facelift. The SMAS facelift restores the lower two-thirds of the face by addressing the superficial muscular aponeurotic system (SMAS), the muscle, and connective tissues that lie under the skin.

As a part of this procedure, a small amount of tissue is removed from in front of the ear. This healthy tissue is transferred to parts of the face that adds volume to lips and smooths nasolabial folds and other creases in the face. The result is a beautifully renewed appearance that provides results for the long term.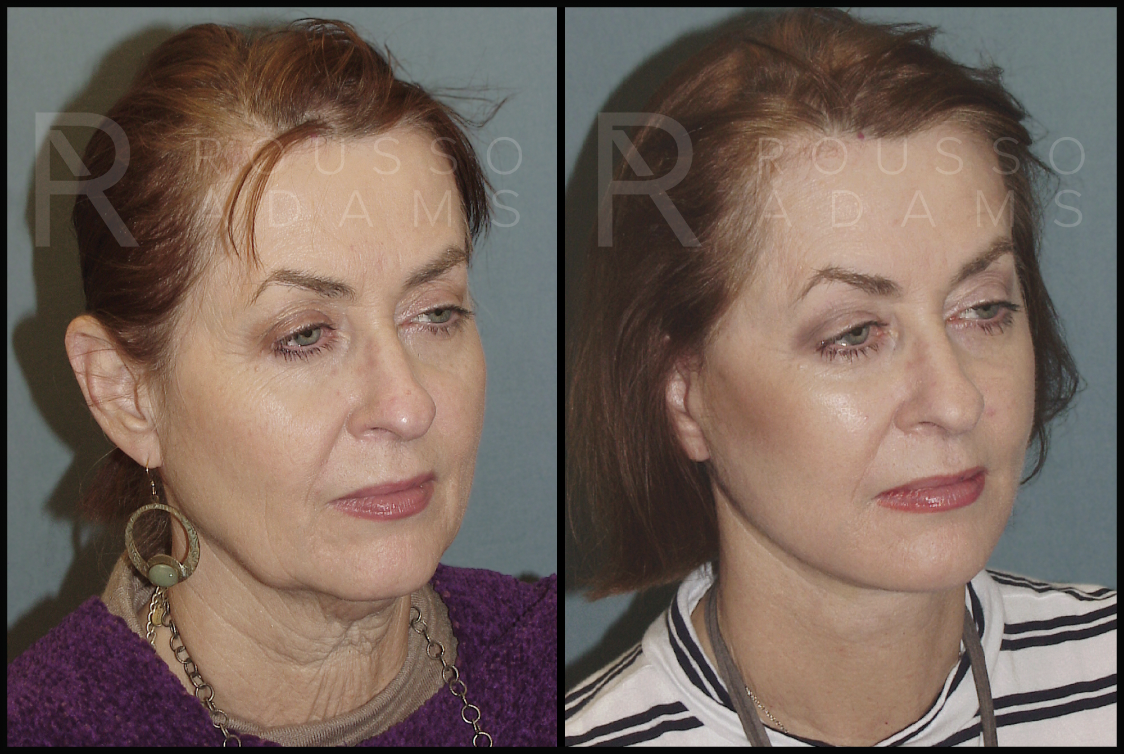 Facelift
A traditional facelift turns back the clock dramatically by lifting the skin and underlying tissues, resulting in more defined, sculpted features. This surgery addresses hollow cheeks, facial sagging, a drooping and irregular jawline, deep creases, and unwanted fat pockets.
This facelift is ideal for patients whose facial sagging is moderate but who do not have jowls or excess sagging skin.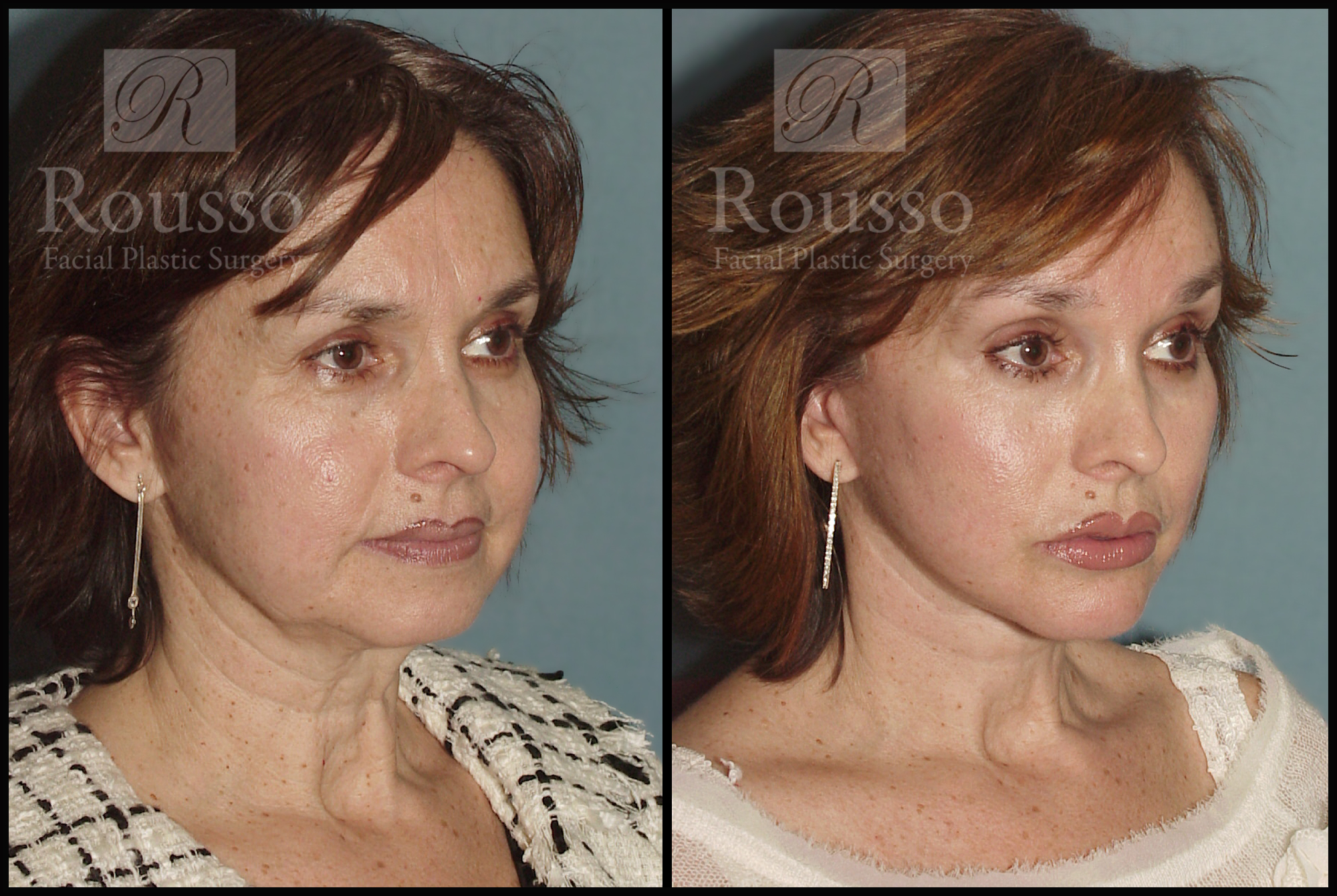 Mini Lift
The mini lift is a popular facelift because it is a less traumatic surgery that effectively targets aging in the lower face. This surgery does not require as much downtime as a typical facelift, but it creates a smoother, more lifted, and youthful facial contour. A mini facelift addresses early sagging in the lower face and lighter wrinkles and lines to achieve better definition and contour!
The mini facelift is designed for patients with earlier signs of age and skin sagging.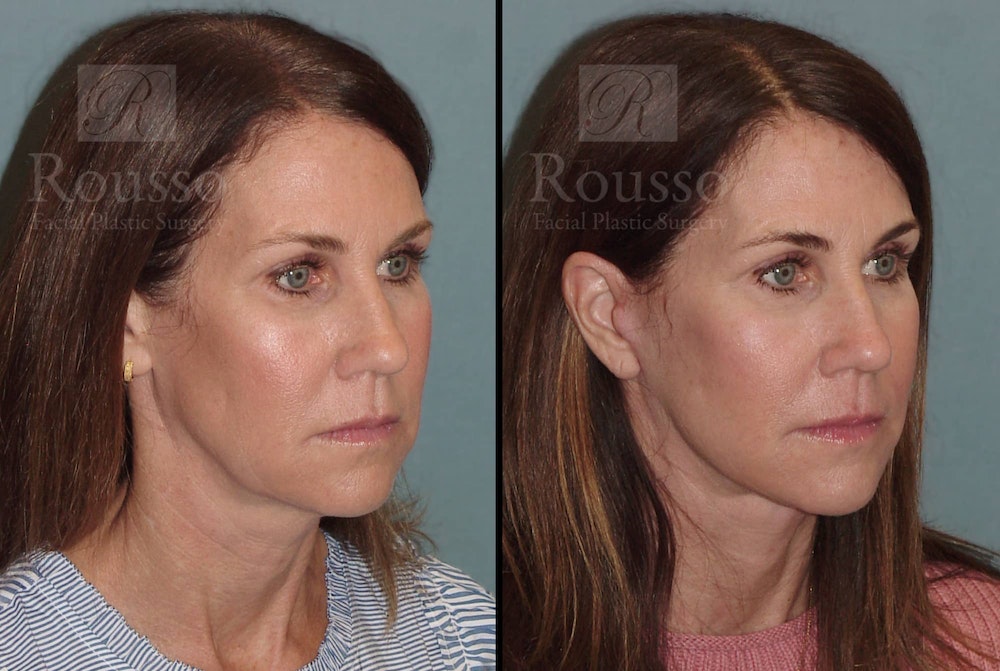 Neck Lift
A neck lift surgery is performed to remove excess skin, stubborn fat pockets under the chin and upper neck, and loose muscle structure. Neck lift surgery firms sculpts and refines the neck to achieve an elegant and more youthful-looking contour.
A neck lift is designed for patients who are experiencing a lack of definition at the jawline, wrinkles and neck banding, sagging skin, vertical bands, a "turkey wattle," or fat under the chin and around the upper neck.
AccuLift
The AccuLift procedure is minimally invasive, requiring only two needle-sized puncture spots made under the chin. This procedure is designed to melt fat pockets and tighten the skin to achieve more sculpted firm contours. During the AccuLift treatment, a customized fiber optic laser is used to melt excess fat with heat energy and tighten the skin by boosting collagen production. Only local anesthesia is used, and the treatment requires very minimal downtime.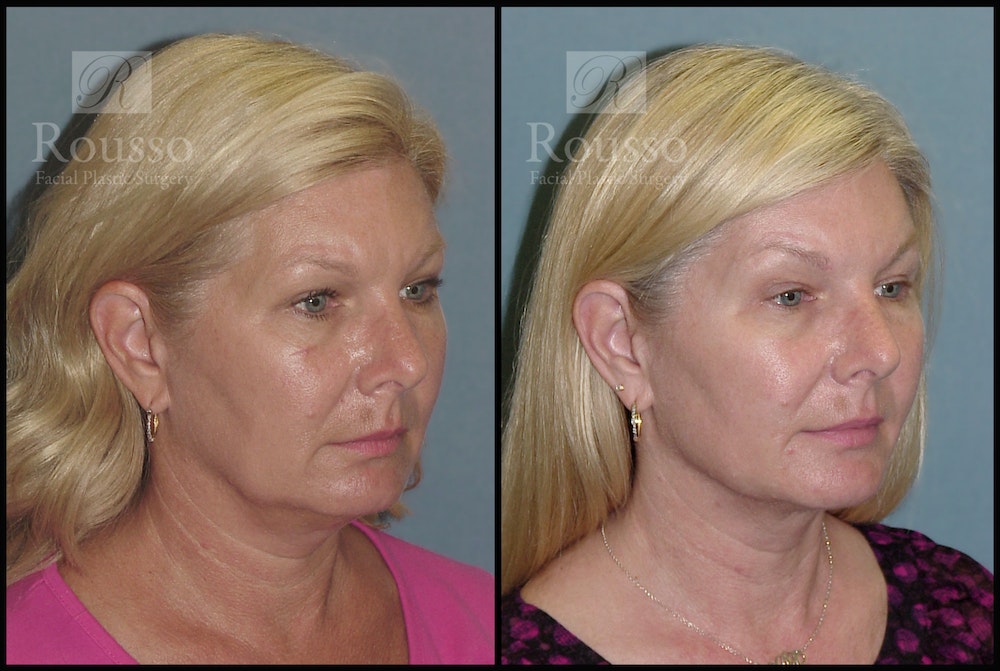 Liquid Facelift
This type of facelift is completely non-surgical and is achieved with injectables, which is why it's called a "liquid" facelift. During a liquid facelift, wrinkles and hollows are addressed with a combination of facial fillers and neuromodulators (wrinkle relaxers). The fillers and wrinkle relaxers chosen for you are completely customized for your facial aging concerns and aesthetic goals.
A liquid facelift requires no downtime and the recovery period is short. While results are temporary and do not achieve what a surgical procedure can, a liquid facelift can rejuvenate and renew the appearance with remarkable results.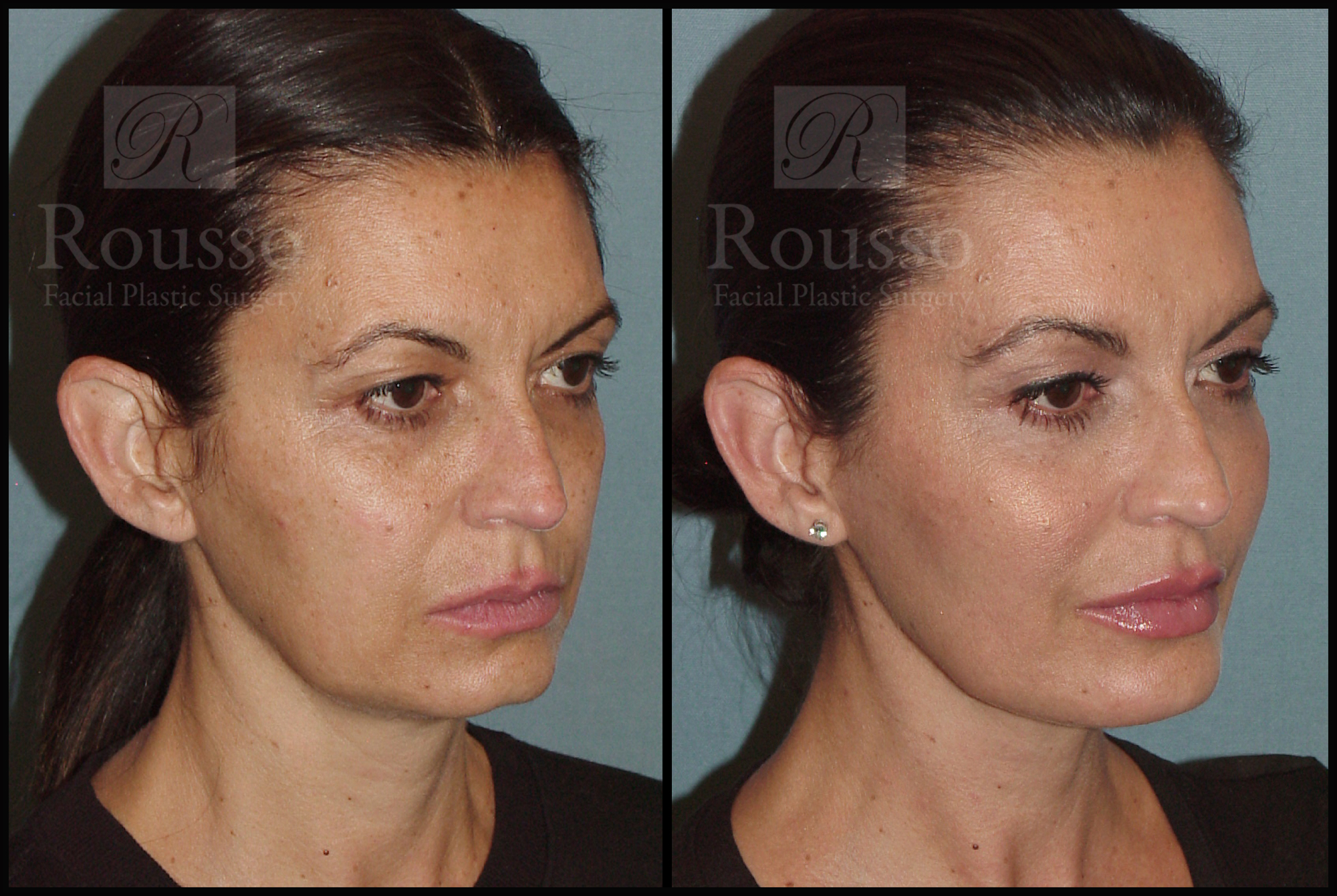 Your consultation at Rousso Adams Plastic Surgery
Your treatment begins with a detailed, thorough consultation. We will begin by examining your skin and facial features and discussing your concerns and goals. We will look at your medical history, age, and general health. From there, we will design a customized treatment plan specifically for you that addresses your goals and is the right procedure for you.
You will be able to ask any questions you may have and hear about the specific details of available facelift procedures, including complementary procedures, such as eyelid surgery, buccal fat removal, a brow lift, and others.
How surgical facelifts work
While each facelift is different, they typically begin with general anesthesia. Once the anesthesia has taken effect, the procedure will start with small incisions near the hairline. Incision placement depends on which type of facelift is being performed.
Using the incisions, Dr. Rousso or Dr. Adams will lift the skin, reposition the underlying tissues, remove unwanted fat, and tighten the muscles to achieve a more youthful, refreshed appearance. Excess skin is trimmed away, and the incisions are carefully closed to keep scarring to an absolute minimum.
Recovery after a facelift
Your recovery period will vary based on the type of facelift you had. If your facelift was surgical, you can expect some downtime and a recovery period as you heal and the swelling and bruising fade. Most patients can return to sedentary work within about one or two weeks.
Non-surgical facelift procedures have a shorter recovery period. In the case of a liquid facelift, there is no downtime at all.
Results after a facelift at Rousso Adams Plastic Surgery
Surgical facelifts achieve dramatic, very long-lasting results, providing a more youthful-looking, renewed appearance that lasts for ten years or more. Non-surgical treatments achieve positive results as well, but they are more temporary.
FAQ
Will there be scars?
Scars depend on the type of facelift you receive. Generally, there will be well-hidden scars at the hairline and around the ears. Scarring is carefully kept to an absolute minimum by Dr. Adams or Dr. Rousso. Non-surgical facelifts do not result in scarring.
Will the results look natural?
Because your facelift is performed by triple board-certified and double board-certified plastic surgeons, Dr. Rousso or Dr. Adams, respectively, your results are dramatic yet nuanced and appear very natural-looking. We use facelift surgery to enhance and renew your features, making your results aesthetic and refined without a "plastic" look.
What is the best age for a facelift?
There is no "right age" for a facelift. Every patient is unique and has their own aesthetic ideals. Because of this, younger or older patients may opt for a facelift. The best time for a facelift is when you've noticed signs of aging that you would like to address.
How long will the results of a facelift last?
If your facelift is surgical, the results last for 10 to 15 years before a touch-up is needed. While you will continue to age, your facial appearance will seem to have gone back in time, keeping you looking younger than you are for the long term.
What is the cost of a facelift?
The cost of your facelift with Dr. Adams or Dr. Rousso depends on the facelift technique chosen, the complexity of the procedure required, your facial anatomy, and whether your facelift is surgical or non-surgical. You will know the exact price of your custom facelift after your consultation is complete.
Call today to schedule a facelift consultation at Rousso Adams Plastic Surgery
If you're ready to see your youthful self again in the mirror, please call to learn more about your facelift procedure with Dr. Rousso or Dr. Adams. If you're looking for something more subtle or a very dramatic rejuvenation, we can provide the exact right facelift procedure for you. Please schedule a consultation with us and get your customized treatment plan to achieve the sculpted, refined facial features and firm skin you have wished for!